I've never done a real review before so bear with me.
The Zen Vision: M comes in both 30gb and 60gb. I currently have the 30gb. Here are the rest of the specs from Creative's website to start off with:
Code:
Description
Capacity: 30GB / 60GB hard drive
Size:
30GB - 104 x 62 x 18.6mm
60GB - 104 x 62 x 22.1mm
Weight:
30GB - 163g
60GB - 178g
LCD: 2.5" TFT LCD at 320 x 240 Color Display 262,144 colors

Songs:
30GB
15,000 WMAs/ 1,000hrs (at 64kbps)
7,500 MP3/ 500hrs (at 128kbps)

60GB
15,000 WMAs/ 1,000hrs (at 128kbps)
15,000 MP3/ 1,000hrs (at 128kbps)

Video:
30GB - 120 hrs (MPEG4 videos)1
60GB - 240 hrs (MPEG4 videos)1

Photos: Tens of thousands of Photos

Audio Battery Life:
30GB
Up to 14 hrs playtime (MP3, 128kbps, 4mins/ song)
Up to 8 hrs playtime (WMA, 64kbps, 4mins/ song)
Up to 14 hrs FM playtime

60GB
up to 16 hrs playtime (MP3, 128kbps, 4mins/ song)

Video Battery Life:
30GB - up to 4 hrs video playtime
60GB - up to 5 hrs video playtime

Supported Audio formats: MP3, WMA (inc MS PD DRM), WAV
Support Video formats: DivXâ"¢ 4 & 55, XviD5, MPEG-1, MPEG-2, MPEG4-SP, WMV9, Motion-JPEG

FM Radio 32 preset stations
EQ settings 8 presets and 5 band custom EQ
USB 2.0
USB host 60GB model only6
Organizer Calendar, Contact, Task List
Power Charging Charges via Power Adapter (2.5hrs only) or PC thru USB (6hrs)
TV Out Yes
Photo with Music Yes
Voice Recording Yes
Removable Disk Storage Yes
Album Art Slideshow Thumbnail, Zoom, Pan
Connectivity

* Docking connector (USB 2.0 with Sync Adapter)
* Stereo headphone out with Wired Remote Support
* Composite AV Out (NTSC and PAL)
* Built-in Microphone
I went with black because White looked too much like an IPod and I didn't want that.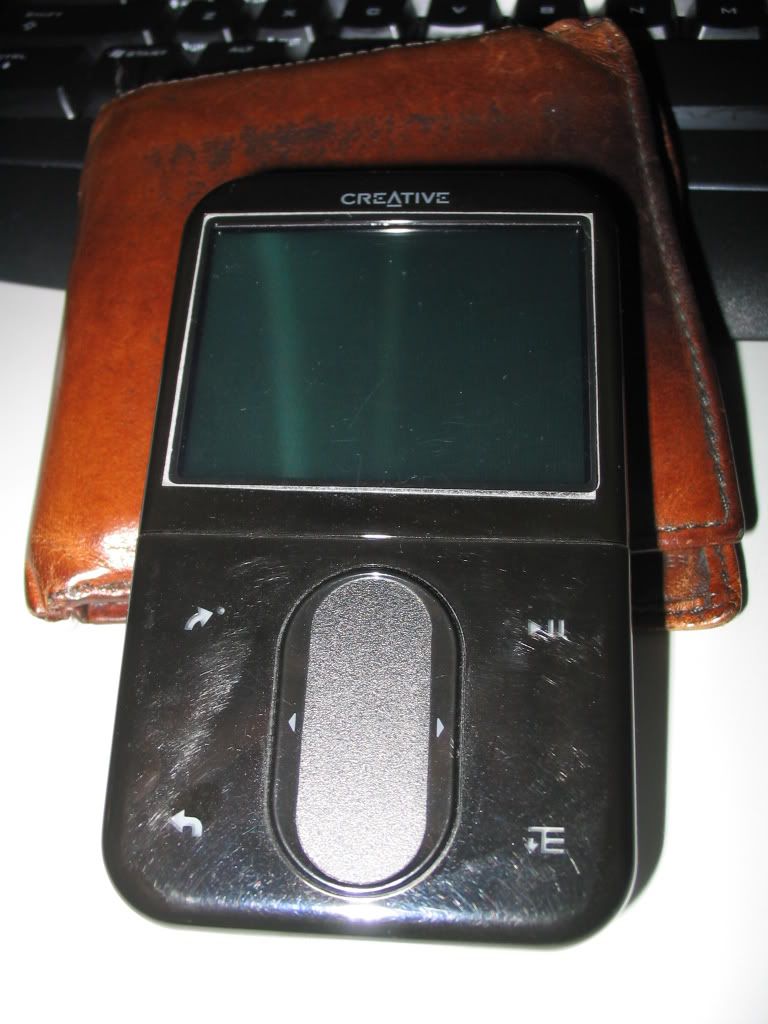 The buttons are very sturdy. I like the feel of the clicking and that actual pressure is needed for the 4 buttons. From Top left - clockwise the buttons are:
1 - Shortcut button: can be assigned a number of options within the list. I currently have it set to shuffle and play everything.
2 - Play/Pause
3 - Menu: Brings up options such as Play Mode, Volume, See Details, etc.
4 - Back: Cycles backwards through the menus.
Also – you'll notice the touchpad in the center. It's a slide scroll that does allow you to continuously scroll if you keep your finger at the top or bottom. No constantly circling your finger or moving it up and down which is huge. The Zen Micro I had before this did not have this feature and searching through hundreds of songs took forever. The center of the Scroll is the select button. It can be used to play or to select individual menus. The scroll can be a bit touchy at times but the sensitivity is adjustable in the menus. On either side of the Scroll are Forward and Backward buttons allowing you to seek within songs and videos or to advance and retreat with tracks. Compared to the Touch Sensitive Zen Micro I had before this is leaps and bounds better. Again, just having the feel of buttons clicking is a major advancement IMO.
The Zen is slightly thicker than a video IPod but otherwise the sizes are the same. Screen size is a respectable 2.5" and extremely clear. Colors are vibrant and words are easily readable.
Below is the picture I'm currently using as the background.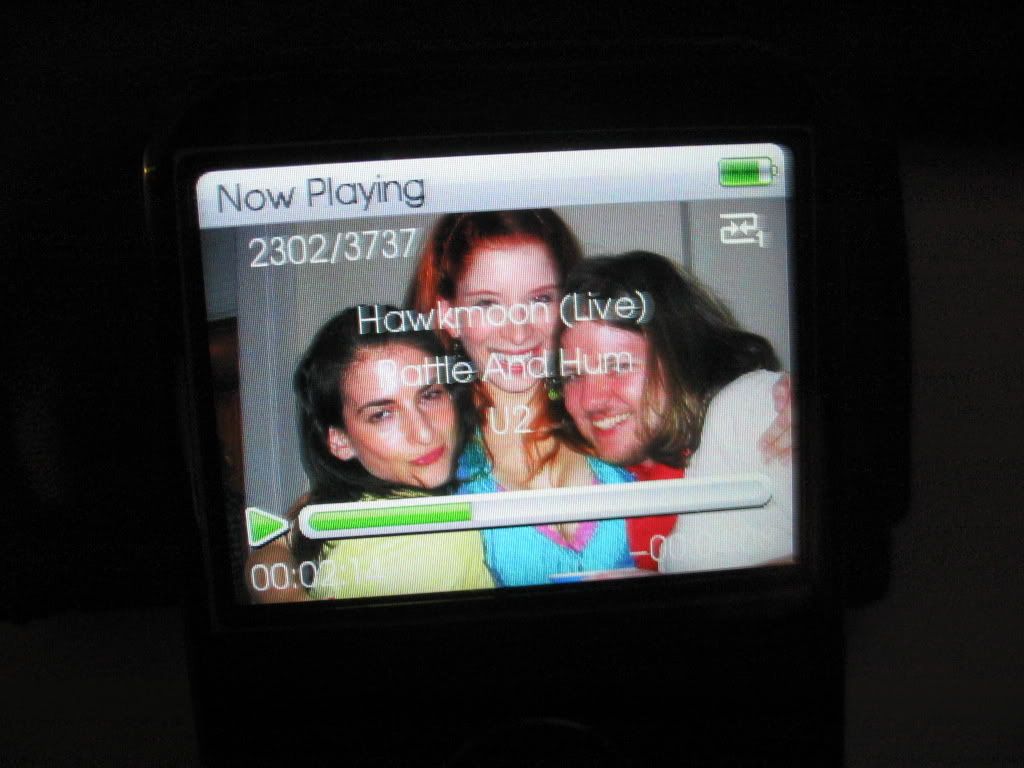 I don't know if the grid effect is from the screen protector I have on there or just the camera itself but rest assured that isn't there in real life.
The top of the unit is very basic.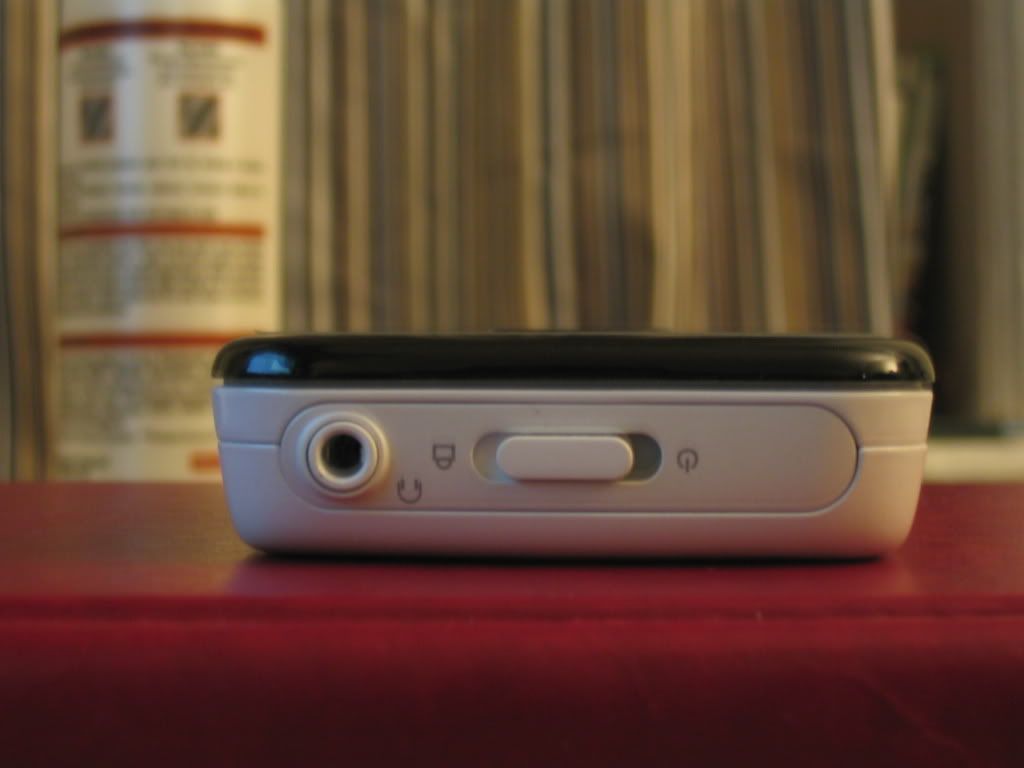 It contains a simple slide on button and locking feature much like the IPod. The Stereo Out Jack is right next to it. Along the top right side is the built in mic for live recordings. Sorry, no pic and I haven't yet tested this feature.
The bottom of the unit has a reset hole and the jack for the adapter. The adapter is sitting on top of the unit in this picture: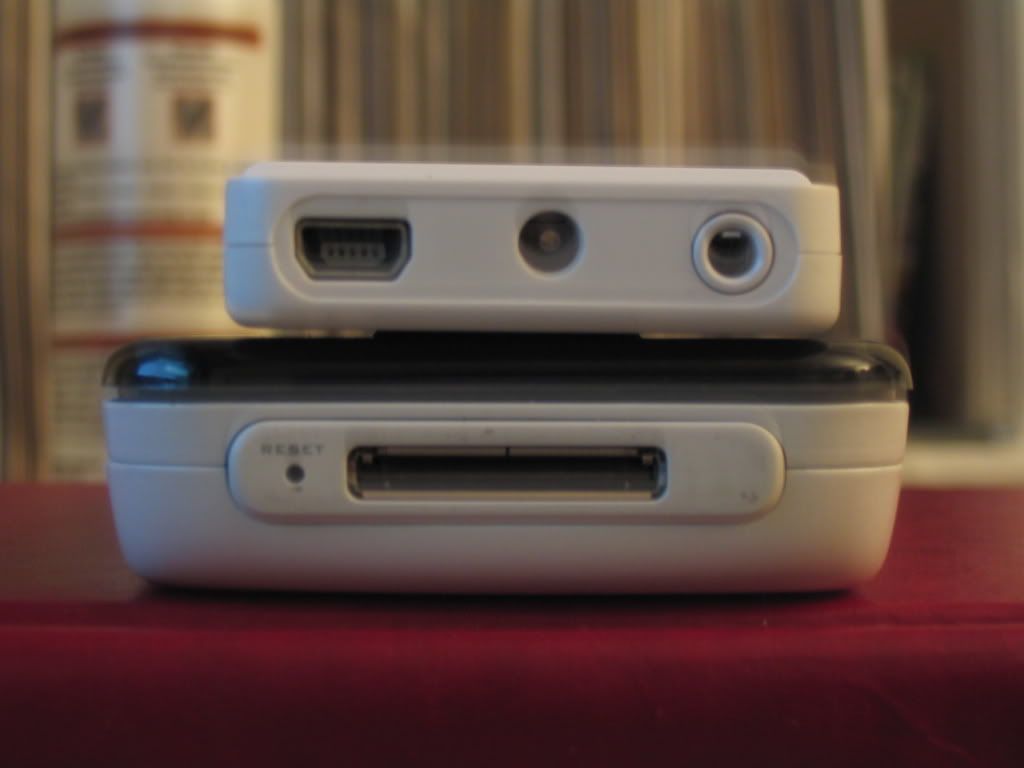 I can only assume that they went the route of an adapter to provide future options of connections. The adapter that comes with the unit comes with a USB jack, AV-Out, and DC In. Below you can see how the adapter looks attached (sorry for the slight blur – camera picked the wrong focus).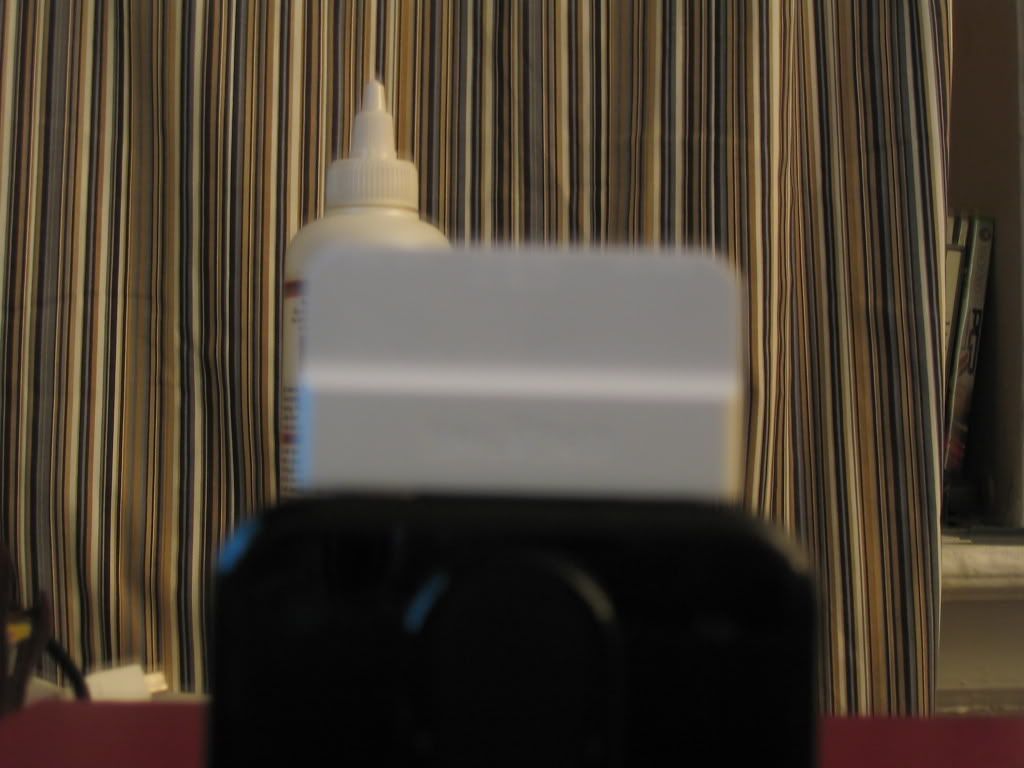 The piece sits fairly securely when attached.
As I mentioned, there is an opening for a DC adapter but one is not provided and must be purchased separately. This is unfortunate because there are times I don't want to have to connect to a computer to charge or would like to continue listening while it charges but that can't happen when it's connected via USB.
As for the AV-Out, I think a proprietary cable is needed from Creative to provide the proper signals and again this is not provided. Therefore I was unable to test this feature as well.
Now to the things I have tested.
Transferring files was a breeze. The Creative Zen Explorer that comes on the CD is very easy to use and transfers without a problem. It even brings across subfolders. If you want to do it the old fashioned way – you can also drag and drop files into the proper locations with the Explorer. I first transferred ~4800 files in one shot (~3800 songs and 1000 album art images) and that does take a while even with USB 2.0. All-in-all it took about 10-20min.
When transferring video – the program will notify you if a file needs to be converted in order to be played and gives you the option to convert it there with the built in video-converter. Unfortunately, I've yet to get this program to actually convert anything. I've run across files it claimed couldn't be played and yet converting them always failed. No answers there yet.
Creating playlists can be painful at times unfortunately. Using the Playlist Manager has the Folders listed in the order that they were transferred to the unit. This means it's not exactly Alphabetical which can be annoying for anal people like myself who have all of the songs in sub-folders by artist and album. The beauty of this is that you can adjust and create playlists while browsing the media which does put everything in alphabetical order. Unfortunately you don't seem to be able to create a play-list of videos.
Sound quality is excellent. I don't use the included ear-buds mostly because I don't like how ear-buds feel in general so I have a pair of Sony headphones that clip over the ears like glasses and have no bar connecting them. But I have used the included ear-buds and they sound fine. Volume needs to be a little higher I found but that could also be due to the trouble I have keeping the things in my ears. Riding on the subway or walking the streets of NY I generally keep the volume around 18-20 (with .5 marks for each number) out of 25. Anything lower than 17 in a crowded situation isn't clear. In the office, I have it as low as 10-13 so that I can hear people calling for me if necessary and so I'm not blasting my ears off wandering around. I raised the Bass a slightly but otherwise didn't touch the EQ. And I just like extra Bass which is why I changed it. Sound quality for Video is very good too though it can sometimes be a little quieter.
Video quality is surprisingly good. Even watching a widescreen vid with black bars doesn't seem too small. I've watched TV shows, music videos and cartoons without a problem. Below are a few recordings I made of the Video playback. Quality isn't the greatest because I was using my digital camera to make the recording and I used my desktop speakers to provide the sound for the Camera to record. Focusing up close was a little blurry but I think you can still see the movements pretty clearly which is what I was trying to capture.
First is a music video with a lot of quick movements. It's a little dark but you get the gist of it.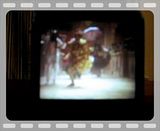 Here's another with quick smooth movements. This one's a little brighter making it easier to see.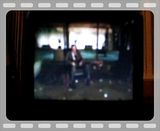 This one shows more vibrant colors as well as a Digital Cartoon: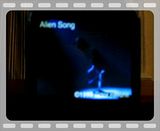 This one seems to be the hardest of the videos to discern but I like it's constant contrasts between light and dark images. And yes if you haven't seen it before, the stuttering video is part of the recording not a result of the player.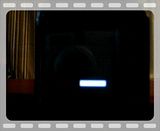 Unfortunately they may have used too much whitening for my camera so some of it seems really bleached out but you get the idea.
I had also recorded a TV episode but I'm having trouble uploading that for some reason. If I can I'll add that at a later date.
Like I said, the quality isn't amazing but that's due to my camera and the compression upon upload and not the player. If anyone wants full copies of the real videos for comparison let me know. I can also try uploading the original camera recordings in full as an available download. Perhaps PK can host them for me.
Positives:
1 – Large size holds everything you can have. Even transferring 17gigs to start I've got more than enough room for stuff.
2 – Color is amazing and easily seen in daylight. Letters are big and very readable.
3 – Clickable Buttons!
4 – Continuous Scrolling by just keeping your finger in place with slight pressure.
5 – Excellent sound and video quality
Negatives:
1 – No included DC charger.
2 – Screen could be larger.
3 – Already has frozen on my once (easy fix with just a push into the reset – doesn't lose data)
4 – Not having access to the battery is a pain and reminiscent of the IPod.
5 – Not able to playlist the Videos.
6 – Built in video converter appears to be useless (
Online converter
Tomarlowe posted works really well)
Overall I'd give this a 8.5 out of 10.